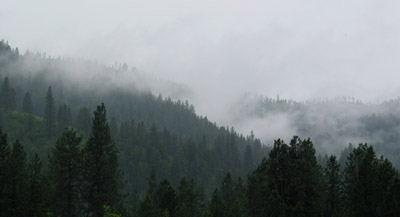 This day has been the longest day in my trip, now well into the seventh week, as far as miles traveled.
Up to this point, all of Idaho that I had seen, which was mostly the panhandle and west-central part of the state, was quite green, whether it be the mountainous regions or the vast farmland that covers the high rolling hills. My understanding is that this changes by mid-summer with the coming of the heat and the dryness.
Boise is at the very edge of this green zone. Traveling south out of Boise, the terrain abruptly changes to vast, open, lonely, wind-swept, sagebrush-covered prairie. You can still see snow-covered mountains in the distance, but they seem to suddenly be very far away, almost as if while you weren't looking they silently bounded off into the distance.
This is perhaps why on this day I experienced feelings of alone-ness - not really quite loneliness, but something akin to it - for the first time on this trip. It wasn't really depressing, but more just an unsettled feeling. There was little traffic on the road, the world there just seemed so wide and empty, and I had so, so far to go.
I thought about how long I had been going so far. It really has been quite some time. The end is still much further in the future than the beginning is in the past.
As I continued south into northern Utah, mountains returned to the landscape, which made for a more interesting drive. I hadn't taken any pictures of southern Idaho - there wasn't that much there to take pictures of. With the change in landscape, my mood switched back to it's more normal upbeat nature.
I bypassed Salt Lake City and went directly to Park City. I called John Glanville's friend Marie, who as it turns out has some sort of interest in a B&B in Park City, and was offered some favorable rates, so I decided to stay there.