Start: Doylestown, PA
Finish: Doylestown, PA
Miles Today: 0
Miles to Date: 5721
Trooper Mileage: 174643
Mike and Lynne's Wedding
Today was the wedding day of my good friends Michael Christman and Lynne Brown. Mike I've known since to 4th grade. Lynne I've known for several years now. They've been kind of beating around the bush on this for a while, and since they couldn't reach me at the last minute to tell me to cancel my flight, they finally had to go through with it. In spite of my own personal caustic attitude towards matrimony (I didn't even try to talk them out of it - not very hard, anyway) these two are really great together, and will do about as well as can be done. An inherent genetic predisposition towards lunacy helps.
In an effort to provide you with the flavor of the nuptuals, instead of doing a narrative (yawn ...) I thought I'd just caption some of the pictures with the thoughts and words that go with (or at least, in my deluded fantasy world should go with) the images.
That's right - $2500 or I tell
Lynne about that weekend
you and all her other sisters
spent with Mike in Atlantic
City.
Why do they always ruin
weddings by getting a
man involved?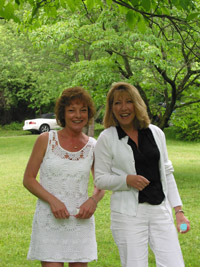 Yes, we know we're wearing
more white than the bride ...
We are so looking forward
to getting this babe drunk ...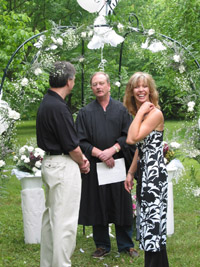 Exactly how many
ex-girlfriends of yours
did you invite, anyway?
Love, honor and what ?!?
Get serious!