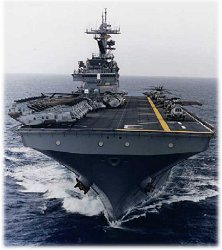 This morning I woke up at Mike and Lynne's place, having spent the night there after a Very Fun Party. Actually, the party kept going, everyone just had the good sense to take a healthy sleep interlude in the middle of it.
---
Later in the day I returned to my parents' home, and spent some time with some of their neighbors who have been following my little odyssey.
I had the opportunity and honor to meet a man that I had known up to this point only through email, the son of one of the neighbors, Lieutenant Peter Avram, US Navy. He and some of his shipmates have been following along, and I have heard from them from time to time.
Lt Avram (I'll call him Pete, I think he'd prefer that) is attached to the Kearsarge, pictured here in an image I stole from the US Navy's official website. The Kearsarge is an amphibious assault carrier.
A strange thing happened when we met. He jumped up smiling, extending his hand, and exclaimed something like "my hero". I was taken aback, however pleasantly so.
Evidently I am living the fantasy of many people, including Lt Avram (oops, I mean Pete), and a few of them are vicariously exercising their wanderlust by traveling with me on this little web site. Knowing a thing or two about Pete and men like him, I must say that I am not sure what I have done to deserve the description "hero" from them. So, I feel the need to reflect on the label "hero" and express some of my own perceptions on the word.
Pete has been in the US Navy for 18 years. He started out as an apprentice seaman and now holds the rank of Lieutenant. I understand he is on the list for promotion to Lt Commander soon. He is currently responsible for a number of critical systems on the Kearsarge. As you can see from the picture, that is a large responsibility. He also works closely with the SEAL teams and their equipment, and (I would imagine) seeing as how the success of the teams is closely tied with the proper functioning of their equipment (along with a multitude of other factors) he trains with them on a regular basis.
If you want to talk about heros, you don't have to look to far to find subjects of discussion. Perhaps one positive thing that has come out of the tragedy of 9-11 is the fact that America has had to stop, look around, and see what she is made of. And what we've found, I think, is that we are a nation full of heros, from one end to the other.
Many of them wear uniforms - quietly and professionally honing their craft, often in the hope that it will seldom need to be put into use, but responding decisively and without hesitation when the call comes, as it ultimately and assuredly does in the world as it is today.
Then there are the heros without uniform, without portfolio, the ad hoc heros - just plain, everyday people who find themselves without warning in a position where something decisive must be done, and they just do it.
So - today's web page is dedicated to the sailors and marines of the Kearsarge, as well as all of the men and women out there, in uniform and out, who by profession or accident make the decisions and commit the actions which define America, and make us - not perfect by any means, but the standard that so many others strive to achieve.