Like I said, I started driving at about 3:30 in the morning. I went until almost 5:00, just before the break of dawn, then pulled over into a truck stop where I stretched across the front seats of the trooper and slept for about 2 hours. There seemed to be a lot of people sleeping in cars there, so I figured it was a perfectly acceptable thing to do. I woke up when the sun started to shine in my eyes.
I was still in eastern Colorado at this point - very flat, very boring landscape. I finally crossed over into Kansas and continued to drive until about 11:30, at which time I pulled into a rest stop, found the only available shady spot to park in, and napped for another hour or so.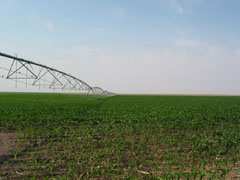 I was wakened this time by the heat and the sweat trickling down my neck. The sun had shifted, and so had my little spot of shade. I was reasonably refreshed, so I took this picture and continued on.
This was about the flattest spot in Kansas that I went through. Contrary to popular opinion, Kansas is not all that flat. That particular honor goes to Nebraska, from what I hear. I was throufh Nebraska in January 1975, and as I recall, it really was FLAT.
Actually, a lot of Kansas is quite attractive. Much of it is rolling hills, covered with farm fields, interspersed with tree-lined stream beds and small wooded areas. Certainly not the dramatic geologic formations of the more westerly states, but it was sure a lot easier to pick up radio stations, and the cell phone coverage was remarkably good.

In the late afternoon I pulled into Salina, Kansas, a reasonably sized town with a local university presence which gave it some life. Some of the local signs, however, reminded me that I was unmistakably smack-dab in the middle of the Bible Belt. Regardless, I found another motel with reasonable rates ($30) and comfortable rooms, and managed to pass the night and morning without being struck by lightning or turned into a pillar of salt. I even managed to get out for a beer. Kansas, evidently, is not as dry as it was 25 years ago. They even have a state lottery now. Look out, Vegas.