I got on the road about 10:00 AM and continued on to Lawrence, where I planned to spend some time with my brother Geoff. The trip was uneventful, and once I got into town, I called him on the cell phone and got vectored to his house (kind of like talking to air traffic control). This may sound simple, except for one thing. Geoff does not own a car and rarely drives. One consequence of this is that his navigational concepts are a little different than mine. There were a few slightly confusing moments, but I eventually rolled up in front of his house where he was sitting on the front porch, and there was a short somewhat comical moment where we were looking at each other but continuing to talk on our cell phones.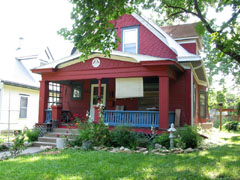 Lawrence is the home of University of Kansas, Hallmark Cards and the first and original Birkenstock shoe store. Geoff works for the university library in the Slavic department. His job entails cataloging Eastern European books and periodicals, a position for which he is eminently qualified. His undergraduate degree is in Russian and German, and he has two Masters degrees, one in Slavic languages and one in Library Science. This, however doesn't begin to tell you how many languages he speaks - he speaks many fluently and has a working knowledge of many more.
Geoff also has his own web page at squidbrain.com - he has this thing about squid ad octopi - I'd explain, but a discourse on cephalopod intelligence is beyond the scope of this humble little site.
The residential neighborhoods of Lawrence consist of tree-lined streets of old houses, most of which go back to the times when the horse was still the main mode of transportation. Some of the houses still have hitching posts out on the curb. Underneath the asphalt on many of the streets, the original paving bricks remain. On some streets, they've removed the asphalt to return to the brick paving.
Every house has a front porch. People actually spend time on their front porches, so people know each other. There are no walls separating the yards like there is in Arizona. This makes for real neighborhoods with a real sense of community, and generally creates a sense of security and safety.
Also, there is a lot of other things about Lawrence that you would not expect in the state of Bob Dole - more on that tomorrow.