Today Geoff and I drove to Overland Park, which is just outside of Kansas City, to have lunch with Jaguar and shop around the electronics stores (Geoff was looking for an MP3 player with specific features). Jaguar is Geoff's friend from Bangkok. He works for Sprint in Overland Park as a business analyst. During lunch we talked about some of the new wireless technologies that are going to be coming available, such as Internet and data services and phones with built-in cameras that will let you take a picture and instantly send it to another cell phone or email it to friends (no doubt this technology could add a new wrinkle to the "900" telephone services business).
Geoff, Jaguar and I have tried to put together a trip to Thailand a number of times now. Our first plan was scrapped due to 9/11. The second time, last April, Jaguar's boss just wouldn't cut him loose from work. Sooner or later, we'll get this together.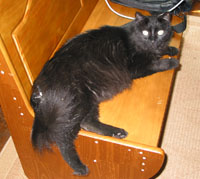 OK, For the benefit of our relatives here (and of an unknown level of interest to the rest of you), here's some imagery from Geoff's house. First, of course, are the cats, Dusty (left) and Tennessee (right). Both had me pegged as an easy mark immediately. Their affection was reinforced by the distribution of some dried squid, which Jaguar's parents brought over when they visited about a month ago. Now, I've eaten my share of squid, especially in Asia, where breakfast frequently involved something that had tentacles. But - although I think squid jerky is OK, I wouldn't be able to make it a regular staple in my diet. The cats, however, love it - which is a good thing, because Geoff has lots of it ...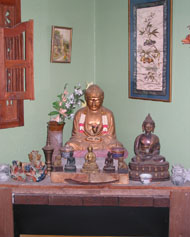 As well as the food, the rest of Geoff's house has a distinctively Asian flavor, from the interior decorations to the gardens and koi pond in his back yard. It's not just his house, either. There is a Zen center across the street.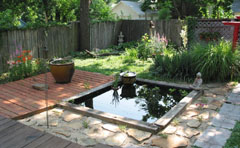 As in many Asian houses, a corner of the living room is set aside for the Buddha. In this case, several Buddhas.
Geoff has quite a collection of Buddhas, a number of statues of other dieties associated with Hinduism, and a collection of more secular art objects - if any Asian art object can be regarded as a totally secular item.
Geoff's house is one of those homes where you don't quickly become bored. There's lots of little things everywhere to poke your nose into, touch, fondle, examine, sniff, and inquire about. His selection of books is quite intriguing - lots of language texts ranging from ancient Egyptian grammer to modern Russian technological references, cooking (Chinese to Mexican), lots of sci-fi, books on Eastern philosophies and religions, and the eclectic collection of modern trashy novels just like I like.
Geoff has a high-speed internet connection, and his computer is usually connected to a radio station web-cast. For those of you who are unfamiliar with web-casts, it works like this - many radio stations have a web address through which you can connect, via your web browser, to a streaming-media broadcast of the same material that is going out on the air. Geoff usually has on music from Albania (which is actually really nice), news from Bosnia (which he understands but I don't) or the Tom Leykis Show (which I thoroughly understand).
Tomorrow - The real Munchkinland found!