I woke up this morning, about 5:30, to the sound of rain drumming on my tent. Hmm... OK, rain, no big deal. After a month of sunshine it had to happen sooner or later.
By 6:30 it had turned to snow. Hmm ... OK, I've got warm clothes.
But - visibility? About 200 yards, and the forecast was not encouraging. Now, if I'm going to climb up a 10,000-plus-foot volcano, which by the way is the only one other than Mount Saint Helens that has errupted in the lower 48 states in this century, I should at least be able to enjoy the view. Except there wasn't going to be any view.
So, I packed up and left by 7:30, heading for the coast. I figured I'd try to make Redwood Forest today, but as I got closer to Eureka, I thought I'd check out the area. I stopped for a quick bite at (groan) a McDonalds, where I picked up a California hotel guide. I spotted an ad for another historic hotel in Arcata, just north of Eureka. There was a coupon for a room for $50. I figured it wouldn't hurt to look.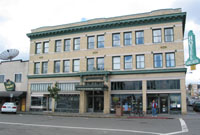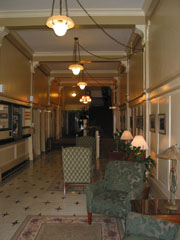 I drove into town, another small, interesting place. I checked out the Hotel Arcata, also nice. I think no more Holiday Inns.
I talked with the desk clerk for a while, and got some interesting info on the town. This is the only place in the country where local politics are controlled by the Green Party. They give the local logging industry fits. Add to this the fact that the contribution to the local economy made by the logging industry is decidedly in second place to that generated by the marijuana cultivation industry (something that is openly acknowledged by just about everyone), and you get a formula for some very interesting local politics.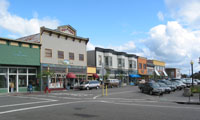 Walking around town is in some ways a flashback to the 60's. Hippiedom seems to be alive and well here - young and old. I'm not sure what to make of that, but I enjoyed walking around the numerous incense-fumigated shops, selling books, music, materials on Eastern religions, hemp-fabric clothing, and a wide variety of smoking implements. Evidently the local college crowd keeps them in business.
Strangely, I did not see any public drug use, didn't even get a whiff of anything suggestive of a controlled substance. The place is probably so heavily under DEA observation that everyone is really circumspect in their behavior.
Tomorrow I'll check out the harbor area, then head up to Redwoods regardless of the weather. I need to get moving.