Start: Arcata, CA
Finish: Redwood NF
Miles Today: 96
Miles to Date: 2760
Trooper Mileage: 171681
Sign in the bar in Orick, CA:
Earth First - We'll log all the other planets later.
I stopped in to treat myself to a beer for a change (Nevada Pale Ale on tap, very tasty). After glancing around at the handful of people in this particular establishment, I determined any comment on my part would probably result in a discussion the nature of which Robert's Rules of Order would not be rigorously adhered to. Needless to say sentiments in this town are somewhat different than those of the residents of Arcata.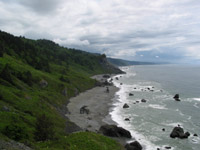 Ayway - back to the day - I drove north from Arcata to Redwood Forest, which is actually a combination of state and federal parkland. I spent the late morning and afternoon driving through, stopping requently. Much of the road runs along the ocean, or near to it. The panorama above is at the mouth of the Klamath River. The picture to the right is the shoreline a few miles to the south.
The day was cloudy, and rain came and went. I took lots of pictures - not so much of the forest (see the next day for some of that) - but just interesting things.
Below is a little gallery of some of the pictures - a few are quite striking in their full size and quailty - my personal favorite is the first "Klamath Beach". If anyone wants the full file, let me know and I'll email it to you. These pistures are reduced in size and quality from the originals.
| | | |
| --- | --- | --- |
| Banana Slug | Charred Redwood Interior | Driftwood Burl |
| Klamath Beach | Klamath Beach | Elk Herd |
At the end of the day I pulled into one of the park campgrounds and set up camp. The redwoods and other trees formed a thick canopy above, and the forest floor was thick with ferns. Moss covered everything. Moisture seemed to continually fall from above, whether it was raining or not.