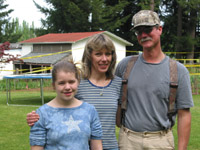 After spending the night with Steve and Cindy at Cindy's house in Yacolt, I hit the road again heading for the central part of the state. I stopped briefly in the capitol, Olympia, to do some banking and take a look at the state capitol building. I briefly considered trying to find the Olympia beer brewery (which I think is actually in Tumwater a few miles south) but decided that I needed to make miles more than I needed to tour a brewery and sample the product.
I couldn't reach Bob and Teri in Cle Elum, so I went through Roslyn, which is about 2 miles up the road from Cle Elum.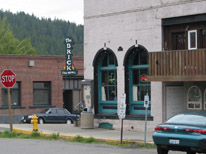 Now here's a little riddle for all of you who have actually watched any TV in the last 8 years. Do you recognize this building here on the right? Here's a hint - think of a moose wandering down the street. OK - one more hint - "In your dreams, Fleishman." That should be a dead giveaway.
Roslyn is where they shot "Northern Exposure".
Since I couldn't reach Bob and Teri, I decided to camp for the night. I headed west about 6 miles to the WishPoosh campground in the local national forest and went looking for a camp site. This being Memorial Day weekend, most of the sites were full. The only one available was a large "two family" site. I was driving along behind a RV from British Columbia, the driver of which was obviously also looking for a site. After a while, he stopped, got out, and approached me. I asked him, "Are you thinking what I'm thinking?". He was.
The residents of the RV were a nice older couple from BC. (They talked like characters from "Fargo", eyh?). Strangely the accent isn't that different from that of some of my relatives who live in Reading, PA. We co-occupied the campsite for the evening, had a nice chat, and as usual, I filled them in on my adventures.
It did not rain that night, so my tent actually got a chance to dry out completely.