After breaking camp in the morning, and finally contacting Bob and Teri, I found out they had pretty much a full house with other visitors, so I decided to get another cheap motel room in Cle Elum.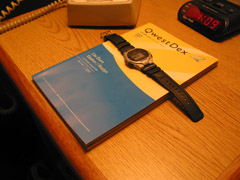 Now. Let me tell you about Cle Elum. Pictured on the right is the phonebook. Not just for Cle Elum, but the neighboring community of Easton. White pages, yellow pages, and government listings all in this phone book. Anything more than 4 miles away is long distance. Needless to say, Earthlink did not have a local access number available, so I couldn't do website uploads. Even if I wanted to dial long distance and pay the hotel long distance rates (about 30 minutes of upload time probably would have cost me more than the room) LD calls were through an operator and I'm not sure the modem software knows how to deal with that.
So, I decided to do laundry instead (I had located a laundromat earlier). On the way to the Laundromat, I stopped at the Caboose Bar and Grill for a beer and a bacon cheeseburger. It had started to rain. There is something really cozy about sitting in a place like the Caboose, warm, not too brightly lit, with hot food and just a little alcohol, on an afternoon when the weather outside is cool, gray and wet. Most of the clientele seemed to be locals, what with the preponderance of flannel shirts and suspenders on the men (I gotta get some of those, I think) with a some weekenders from the Seattle area, and the smattering of complete aliens like me.
There were two couples at the end of the bar, and as I was leaving to go do my laundry, one of the ladies turned to me and said, "I just have to ask you - are you an actor? You look just like - oh, what's his name?" The thought briefly flashed through my mind - OK, what can I milk this for? But, after quickly dismissing the idea of committing false representation for personal gain, I admitted, no, I was not an actor, other than having a cherry part on the Stage of Life at the moment. So, out comes the story of my adventure, we have a really nice chat, and they want my website address. I did receive an e-mail from them, so I guess they'll be checking on the site from time to time also. This kind of thing makes the website work even more fun.