In the morning, Teri and Bob came into town and we had breakfast together in one of the local eateries (which happened to me next door to my motel). Afterwards, I packed up, checked out and went out to see their place. They live in a log house that they had built to their specifications. It was really quite lovely, on a nice piece of land. The elk come wandering through their yard. I guess I just missed a bunch of them that had come through just before I arrived.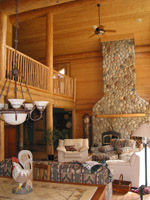 After they designed the house, they gave the plans to a Canadian company that cut the logs, shipped them down on 4 huge trucks, and put them together like "Lincoln Logs". The basic structure was up in 4 days (not including the finish work, of course). I was amazed at the precision with which the logs fit together.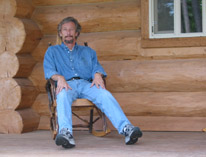 After visiting Teri and Bob, and giving up on my attempts to get their cat (named "Cat CelElum") out from behind the stonework fireplace, it was once again time the hit the road.
Driving east out of the mountains, the landscape opens up into rolling hills and prairie. The underlying strata is basalt from lava flows, many hundreds of feet thick, that repeatedly emerged from fissures in the earth to the east, and flowed for hundreds of miles. Thankfully, this was a few million years ago.
By the time I got to Couer d' Alene, it was obvious that I was not going to make it all the way to Lenore, so I found a state park at the south end of Lake Couer d' Alene and camped for the night. I was the only one there. I pitched my tent, ate, then retired for the evening, reading a book by the light of my propane lantern, with rain drumming on the rain fly of my tent. I kept nicely dry and comfortable in spite of the weather. It was quite cozy, and the rain sound allowed me to forget about all of the other noises I had been hearing off in the woods after the sun went down.