It's been 40 days and 40 nights - and well over 4000 miles - and I still have a long, long way to go.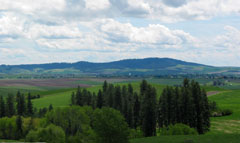 Departing my campsite, after taking advantage of a fortuitous but tiny zone of reasonable cell phone reception to clear up some insurance questions with my former employer, Motorola (and of course to call Mom to let her know that I had not been eaten by a bear the previous evening), I headed south down the Idaho Panhandle. My destination was Lenore, where my cousin Barbara, her husband Frank, and their 2 sons live.
The panhandle area is absolutely beautiful. The rolling green hills, mostly farmland, seem to go on forever. The population is sparse, the towns small and far between. Lets just say traffic is not a major problem.
After a stop in Lewiston, ID and Clarkston, WA (named after Lewis and Clark) for lunch and more banking chores (it seems I do a lot of banking for someone with no regular income stream) I continued south, then east, finally arriving at Lenore (downtown pictured to the right).
Lets just say that after finding Lenore, I felt kind of silly making fun of Cle Elum . However, there is an advantage to the smallness of this town when you are trying to find a place where you are not sure where it's at. Since I had been out of cell reception range most of the time, my cousin Barbara could not reach me to give me directions. Also, her road (sort of) was not on the MS MapPoint software atlas that I have been using to navigate (and produce the maps I put on this site). So, I stopped in the post office (which was past my left shoulder as I was taking this picture) for directions. The local postmaster brought out a small map (hand drawn but accurate) showing me where to go.
About 15 miles later, after driving up and down hills, through more beautiful farms, I found Barb's house and pulled up in her driveway. She was amazed I found the place. Although the mailing address is Lenore, it's actually closer to Orofino (not that it makes a lot of difference...)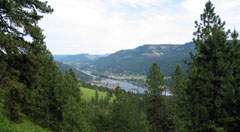 The picture to the left is the view off their back porch, looking down at the town of Orofino, on the banks of the Clearwater River. The river is LOADED with salmon and steelhead - big ones. I'm not much of a fisherman but I might just have to try my hand at salmon fishing.
I think I'm going to rest here for a few days.