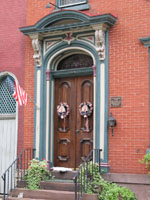 The weather cleared and I departed Lehighton for parts north and west. My eventual destination was Grand Canyon Pennsylvania, but I decided to go through Jim Thorpe (the home town of actress Sharon Stone), another charming town that has rejuvenated its economy by gentrifying itself and making itself appealing to tourists. It seems to have done so quite well. Although I didn't visit it, there is a mansion there built by Asa Packer, founder of Lehigh University where I went to college.
I worked my way across Pennsylvania on I-80, up through Willimasport, then west again on PA 6 to Colson Point State Park near Grand Canyon.
Colson Point is on the high ground overlooking a deep valley. At the bottom of the valley is Pine Creek, where, back in the 70's, I used to go on canoe-camping trips with my friends from the Lehigh Valley.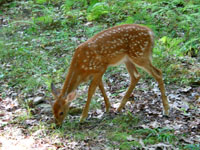 I picked out a campsite (the Labor Day crowds had by this time checked out) and no sooner had I gotten myself settled than the local wildlife started wandering through. I tell you, this thing with deer is starting to get a little monotonous. I seem to attract the things. Of course, it could be worse - I could be attracting bears and mountain lions instead.
I had not been camping for several weeks. I was in a gloriously secluded camping location, even though it was in a state park, away from the road. Of course, this meant I had to carry my gear a way into the woods, but it was worth it.
Anyone who has ever tried to pound one of those aluminum tent stakes into rocky ground will appreciate this - someone had a brilliant idea to build tent pads, rectangular areas bounded by heavy timbers and filled in with well packed sandy earth with no rocks in it.
The evening was very dark, with the usual symphony of unidentified noises in the woods - creaks, shuffles, snaps and crackles that, against the silence of the forest background, are always amplified way out of proportion to the size of the animal that makes them.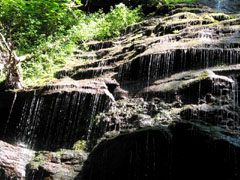 In the morning, I took a hike along the rim trail. I was actually planning on hiking down to Pine Creek at the bottom of the canyon, but the trail had been blocked by a landslide about half way down. In compensation, I was treated to a rest period near yet another waterfall.